Who might replace Matt LeBlanc on Top Gear?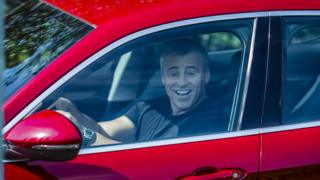 Some say he rescued Top Gear after the departure of its previous presenters.
But Matt LeBlanc is now leaving the BBC's hit motoring show to spend more time with his friends and family.
Viewers are split on whether it's a good or bad thing for the show – which we'll get to in a sec.
But first – who might fill the Blanc space?
---
The bookies' favourites so far include:
Former Saturday Kitchen presenter James Martin
Guy Martin, motorbike racer and TV presenter
Racing driver Jenson Button
Jodie Kidd, race car driver and TV presenter
Steve Coogan and Rob Brydon, stars of The Trip
Presenter and motoring journalist Rebecca Jackson
Dermot O'Leary, general national treasure
Life On Mars actor Philip Glenister
Sport and motoring presenter Suzi Perry
---
It's worth bearing in mind that LeBlanc's hiring in 2016 was a huge surprise, leaving bookmakers on the back foot, so don't rule out another leftfield choice and perhaps another big global name.
Fans haven't been shy in sharing their opinions about the former Friends star's departure in the mean time.
"Honestly I really believe Matt saved the show. If it wasn't for him Top Gear would have probably ended," tweeted Matt [not LeBlanc].
"He did his job and left the series in better shape than it was when he started."
Matt LeBlanc to leave Top Gear
25 things to know about Top Gear's 25th series
Sahaib wrote on our Facebook page: "The show was doomed anyway without the trio of Clarkson, Hammond and May.
"They were Top Gear and you cannot recreate that kind of chemistry."
"LeBlanc leaving Top Gear. Thank god, might finally be bearable to watch," tweeted Chris.
But Samuel defended LeBlanc, writing: "Like him [on] Top Gear, brought some laughter to show. It's sad he's leaving."
LeBlanc's co-host Chris Harris wrote that he "totally understands" the star's reasons for moving on.
---
The magic formula – David Sillito, BBC media correspondent
The problem about all car shows is that everyone tries to do one – Counting Cars, One Car Too Far, Wheelers Dealers, Fifth Gear and so on.
If it was the magic formula for ratings, you'd know about all of these as being must-watch programmes.
But there was only one must-watch programme, which was, effectively, Top Gear with Jeremy Clarkson.
He, Richard Hammond and James May had managed to come up with a magic formula of making a programme about cars, which people with no interest in cars would watch. And it's a formula which is very hard to repeat.
It may be time to reincarnate the show and come up with a different idea – maybe by getting some women in there.
---
Follow us on Facebook, on Twitter @BBCNewsEnts, or on Instagram at bbcnewsents. If you have a story suggestion email [email protected].