Martin Scorsese declares no-selfie Cannes open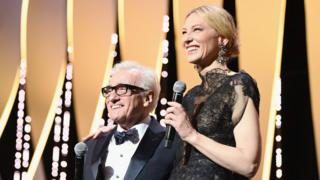 Director Martin Scorsese has reunited with Cate Blanchett, Oscar-winning star of his 2004 film The Aviator, to declare the Cannes Film Festival open.
"I'm very thrilled to be back again in Cannes," said the US film-maker.
"We're all here to celebrate the art of motion pictures and it's a great honour to be asked to open the festival."
The Raging Bull director then teamed up with Blanchett, chair of this year's competition jury, to do exactly that – in somewhat halting French.
Before the ceremony, festival organisers made good on their pledge to stamp out red carpet selfies.
Guests carrying phones were asked to put them away, while security guards stepped in to prevent attendees taking pictures of themselves.
Cannes 2018 rings the changes
Blanchett hopes for Cannes equality
'Joyous task'
In her own opening address, Blanchett said she was "extremely honoured" to be chairing the jury that will award the prestigious Palme d'Or.
"I'm extremely privileged to be in creative dialogue… with the cinematic offerings that we will see unfold," she said.
"Our joyous task is to put our hearts and minds and agendas, our preconceptions and expectations at the door and be alive to the stories that are being told.
"I now invite you to enter into this extraordinary, remarkable festival in the same spirit."
Tuesday's opening ceremony preceded the premiere screening of Everybody Knows, an abduction drama starring Javier Bardem and Penelope Cruz.
The husband and wife actors were on hand to walk the red carpet alongside their film's Iranian director, Asghar Farhadi.
Other celebrities in attendance included Chloe Sevigny, Sir Mick Jagger's daughter Georgia and Julianne Moore, who arrived in a striking crimson gown.
French star Anna Karina, who features on this year's official festival poster, was also in the audience inside Cannes' 2,000-seat Grand Theatre Lumiere.
Benicio Del Toro, meanwhile, posed with French actress Virginie Ledoyen and other members of the Un Certain Regard jury, of which he is president.
Ten films to look out for at Cannes
In a break with tradition, press screenings of the 21 contenders for the Palme d'Or award are no longer being held in advance of the official premiere.
The first press screening of Everyone Knows was held in an adjacent cinema at the same time the film unspooled at the Grand Theatre Lumiere.
Set in Spain, Farhadi's film stars Cruz as a woman whose teenage daughter is kidnapped during a visit to her home town.
Bardem plays a former boyfriend of Cruz's character who becomes involved in the attempts to get her back.
Mixed reviews
Reaction to the press screening was muted on Tuesday night, while one key plot development was greeted with derisive laughter.
Early reviews have been mixed. The Guardian's Peter Bradshaw said it was "intimately painful and powerfully acted", while The Wrap called it the "strongest Cannes opener in years".
Variety, in contrast, said it was "Farhadi's weakest film" to date, while the Telegraph's Robbie Collin found it "strangely sexless."
The Cannes Film Festival continues until 19 May.
Follow us on Facebook, on Twitter @BBCNewsEnts, or on Instagram at bbcnewsents. If you have a story suggestion email [email protected].