Cliff Richard: Singer wins BBC privacy case at High Court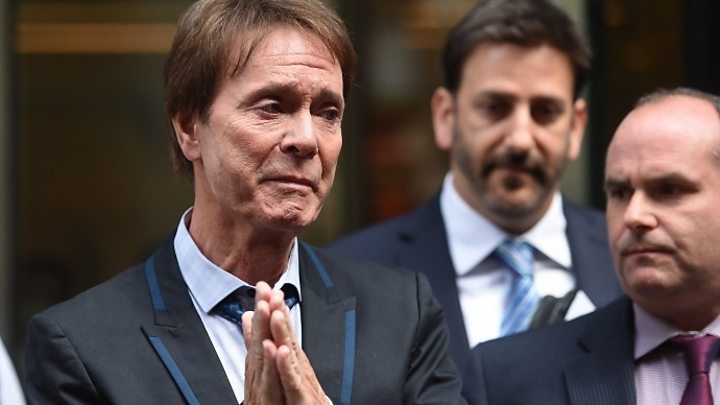 Sir Cliff Richard has won his privacy case against the BBC over its coverage of a police raid on his home.
High Court judge Mr Justice Mann awarded an initial £210,000 in damages.
The singer claimed the BBC's reporting of the 2014 raid, which was part of an investigation into historical child sex allegations, was a "serious invasion" of privacy. He was never arrested or charged.
The BBC said journalists acted in good faith and it is considering an appeal.
Speaking outside the High Court in London, the BBC's director of news and current affairs Fran Unsworth apologised to Sir Cliff and said: "In retrospect, there are things we would have done differently."
But, she said, the case marked a "significant shift" against press freedom and an "important principle" around the public's right to know was at stake.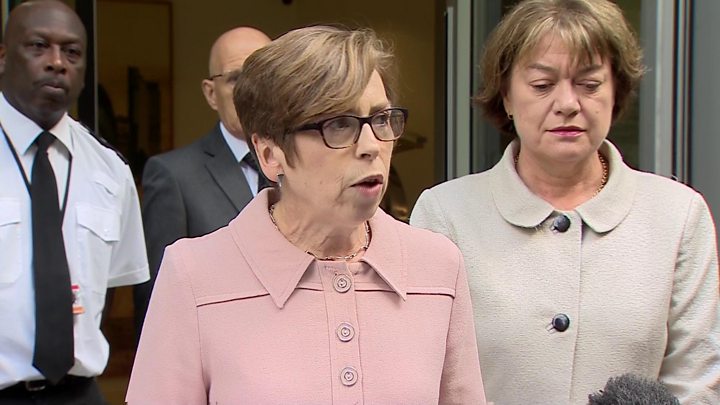 In his judgement, Mr Justice Mann said the BBC had infringed Sir Cliff's privacy rights in a "serious" and "sensationalist" way.
He rejected the BBC's case that its reporting, which included footage filmed from a helicopter, was justified under rights of freedom of expression and of the press.
Mr Justice Mann said a suspect in a police investigation "has a reasonable expectation of privacy" and while Sir Cliff being investigated "might be of interest to the gossip-monger", there was not a "genuine public interest" case.
'Choked up'
He awarded Sir Cliff £190,000 damages and an extra £20,000 in aggravated damages after the BBC submitted its coverage of the raid for an award.
The BBC must pay 65% of the £190,000 and South Yorkshire Police, which carried out the raid, 35%.
South Yorkshire Police had earlier agreed to pay Sir Cliff £400,000 after settling a claim he brought against the force.
At court, Sir Cliff told the BBC he was "choked up" at the judgement, adding: "It's wonderful news."
Fans supporting him sang the singer's hit Congratulations as the judgement was announced.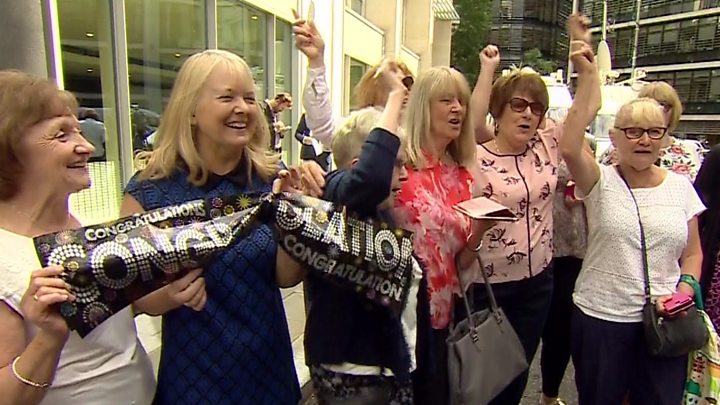 The 77-year-old singer took legal action against the BBC over broadcasts of a South Yorkshire Police raid on his home in Sunningdale, Berkshire, in August 2014.
Officers were investigating an allegation made by a man who claimed he was sexually assaulted by Sir Cliff at an event at Sheffield United's Bramall Lane in 1985 when he was a child.
---
Analysis: 'Dark day for news reporting'
By BBC legal correspondent Clive Coleman
Today's judgement is very significant.
The judge found it was not merely the BBC's use of helicopter pictures which breached Sir Cliff's right to privacy. The simple naming of Sir Cliff as a suspect in the police investigation amounted to a breach of his privacy.
It means, going forward, people who are suspects in police investigations, save in exceptional circumstances, are entitled to reasonably expect the matter is kept private and not covered by the media.
That is why the BBC is broadening this out and saying, in effect, this is a dark day for news reporting.
Looking at some of the police investigations covered in the past, the BBC points out that naming the suspects has sometimes resulted in additional complainants coming forward.
---
Standing alongside Sir Cliff outside court, his solicitor Gideon Benaim said the singer's motivation was "not for personal gain" but to "right a wrong".
Mr Benaim said Sir Cliff, who has sold 250 million records since he began performing in 1958, had "never expected his privacy and reputation would be tarnished in this way".
He said his client had offered to settle earlier with the BBC for "reasonable" damages and an apology, but the BBC had been "defiant".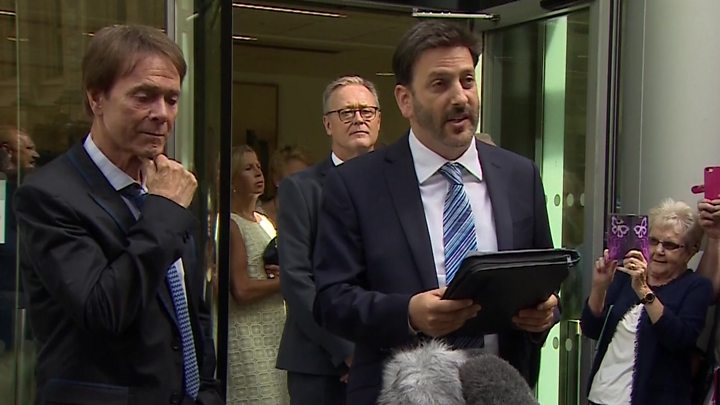 The case raised "serious questions", he said, about the way BBC management scrutinises the work of its journalists and how the BBC focused on preserving an exclusive story rather than respecting Sir Cliff's rights.
Sir Cliff told reporters he would not comment further now, adding: "It's going to take a while to get over the whole emotional factor."
Responding to the judgement, South Yorkshire Police chief constable Stephen Watson said he accepted the findings and the force accepted and apologised for its mistakes at a "very early stage".
"I would like to take this opportunity to again offer our sincere apologies for the distress Sir Cliff Richard has suffered," he added.
'Creative limbo'
The judge said he would hold another hearing to determine further damages after the singer said his plans for "professional work" were "seriously disrupted" in the wake of the coverage.
He said that in the years leading up to August 2014, he had worked regularly, released a new album every 18 months or so and usually played a number of concerts.
But he said he had been left "in effect in creative limbo" for two years until prosecutors said he would not face any charges.
Sir Cliff claimed his right to privacy under the Human Rights Act had been violated while the BBC argued that the same act protects freedom of expression.
TV and radio presenter Gloria Hunniford, who told the trial her friend Sir Cliff felt "violated and betrayed" by the BBC's report, returned to the High Court for the judgement.
She later told ITV's Loose Women Sir Cliff spent £4m on his case.
Ms Hunniford said it was a "landmark case" which could "change the law completely", meaning suspects have anonymity until they are charged with an offence.
Conservative MP Anna Soubry also called for a law change at Prime Minister's Questions.
Citing what she dubbed "Cliff's' law", Ms Soubry said: "Suspects should not be named by the media until such time as they are charged."
In response, Theresa May said it was a very "difficult issue" and needed "careful judgement".
"There may well be cases where the publication of a name enables other victims to come forward and therefore strengthen a case," the prime minister said.
She also said both the police and media "have to recognise their responsibilities".